Need tips hosting a party on Burns Night?
Want to celebrate the life & times of Rabbie Burns?
This great Happythought party planner and printables kit is a compact guide to remembering the life & times of one of Scotland's most famous exports, Robert Burns.
Our practical eBook can be used for an informal get-together or a large formal dinner with all the bells and whistles. Easy to put together party decorations and lots of info on all you need to know about hosting a fabulous Burns Night celebration this 25th of January.
From recipes to decorations to essential poems and song lyrics, it's all here, simply laid out and designed to make planning your festivities fun!
Great Stylish Printables
We have had so much fun putting together these party decoration printables. This Burns Night we hope you have fun making and decorating your party! Each item comes with full assembly instructions. All Happythought paper crafts are designed to be easy and quick to put together.
Start planning and printing for your Burn's right now!
You can download this How to host a Burns night supper! Easy to make printable party kit. Includes 10 DIY templates to print & make instantly  by  using the button below for $5.
Featuring 10 Burns Supper printables:
Invitations with envelopes, Order of Events & Menu booklet, a Poem & Song booklet, Bottle Kilt, Stag table ornaments, Haggis sign, Napkin rings, Burns night photo props, Haggis, neeps & tatties garland and some Burns portraits.
Click here to view a sample printable
Food & Drink
With most parties, food and drink play an important part in the festivities. None more so than Burns Night. There is of course the infamous Haggis, neeps and tatties (swede & potato) and Scotland's famous whiskies to enjoy.
We have selected a few of our favourite recipes and whiskies for a Burns Supper.
'Bill O' Fare'
A starter of Cock-a-Leekie Soup followed by the main course of 'Haggis wi neeps an' tatties'. Two sweet puddings of Tipsy Laird and or Raspberry Cranachan. Finished off with a cheese board known in Scotland as "Bannocks an' Cheese", served with coffee.
Click here to view Tipsy Laird recipe page 
Whiskies
We have also selected a top 5 Scottish Malt whiskies to enjoy with your Burns Supper. Some modern whisky cocktail alternatives have been featured. After all, what's Burns night without a dram or two of whisky?
Order of Events
There is a standard Order of Events to a traditional Burns Night Supper. Depending on location, your resources and priorities for a party, you may not want to follow them to the letter.
We have put together a suggested short list for a more informal event. This includes Selkirk Grace, Address to the Haggis, A toast to the lassies (ladies), A reply from the lassies, and finishing with a classic sing-a-long to Auld Lang Syne.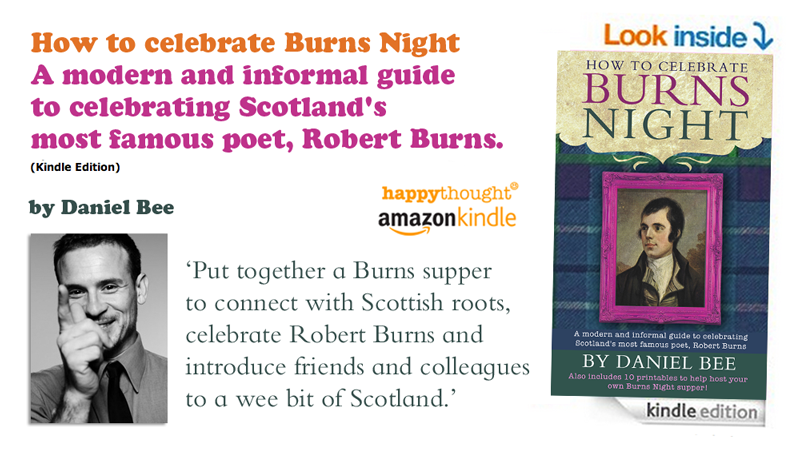 Click below to download Burns Night printables kit.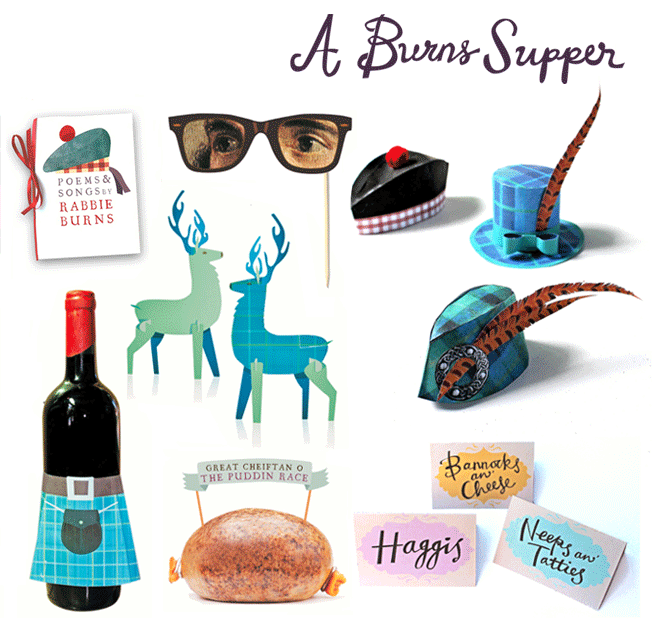 Burns Night Supper and Scottish themed digital and traditional scrapbooking papers for celebrating all things Scottish.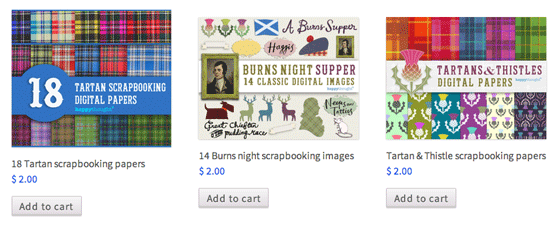 We hope you enjoyed our Burns Night Supper ideas, printables and advice! If so, please give us a little love; by liking us on facebook, pinning us on pinterest or following us on twitter. Thank you!
What is Burns night?
These unique celebrations have become more than just an appreciation of Burns poems and songs. Burns has become a symbol for Scotland and Scots all over the world. His national pride, strong beliefs in human equality and quick wit are admired and celebrated worldwide. A Burns Supper needn't be a formal, stuffy event.
A perfect Burns Night celebration consists of equal parts good company, good food and drink and a good dose of Rabbie's finest verses. Click here for a short biography of Robert Burns